Apartment movers in Cleveland and northeast Ohio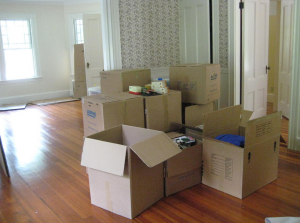 If only relocating to a new apartment was as easy as signing the lease, moving in, and living happily ever after. Unfortunately, there's more to the process than that.
Of course, trying to move an apartment on your own can be a huge undertaking and hassle. Narrow hallways, flights of stairs, elevators and busy exits and entryways can make the job difficult – not to mention stressful and frustrating.
Don't do it alone. Sit back, relax, and let our Cleveland, Ohio moving company assist with your residential moving needs. We offer reliable local and long-distance moving service to and from Cleveland and the northeast Ohio region – including Parma, Akron, Elyria, and beyond.
Our professional movers are fully licensed, insured, and intensely trained to meet the many challenges that generally come with relocating apartments big and small. Even better, we promise not to damage any of your most treasured personal belongings.
Contact us today for a free estimate and affordable relocation assistance.
Affordable home moving services
From bedroom sets, mattresses, refrigerators, couches, chairs, tables, electronics and more, we can assist with your entire move – from start to finish. That includes:
Planning the move and other logistics
Packing your possessions
Moving them out of your apartment and loading them
Delivery to your new apartment, house, or to storage
Unloading and unpacking
Moving items in your new place where you want them
Don't need full-service moving help? We can assist you with packing and unpacking and loading and unloading heavy items, like appliances, furniture, televisions, pianos, and pool tables. Have a rental truck? We'll load and it and unload it for you at a minimal cost.
Top Cleveland OH moving company
Make our movers in Cleveland, OH your top choice for apartment, condo and townhouse relocation. Here's a few reasons why you should probably select us:
Our rates our affordable and fairly priced
We deliver upfront pricing that is accurate and never blindside you with hidden fees
We'll return your calls, texts and emails, and get back to you fast
We're efficient and work fast to save you money
We're careful and treat your items like they're our own
We travel throughout Ohio, West Virginia, Pennsylvania, New York, and the USA for long-distance moves
We're experienced, with more than 20 years in the moving business
We're local to the Cleveland area and have lived here all our lives.
Want to learn more? Call us for a free estimate and reliable apartment moving help. One of our friendly customer service people will walk you through the costs and process, and happily answer any questions.