Appliance movers in Cleveland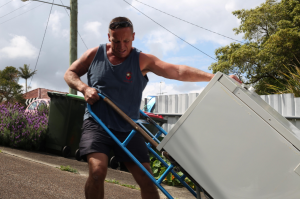 Lifting and moving heavy and bulky home appliances can be strenuous undertaking for even your strongest friends and family members. You can attempt the task on your own, or you can always count on the expertise and skill of our Cleveland movers.
Fully licensed and insured, we have many years of experience moving kitchen appliances to and from homes, apartments, and offices throughout our region. We can assist you with safely and affordably moving the following appliances and more:
Refrigerators
Freezers
Stoves
Ovens
Washing machines
Dryers
Dishwashers
Grills
Call us today for a free no-obligation appliance moving estimate, upfront pricing with no hidden costs, and reliable service.
Top moving company in northeast Ohio
Moving giant appliances takes an extra level of care because of all that's involved with the process. Safety is always our top priority. Using modern equipment and our amazing moving skills, we relocate appliances without damaging them or your home, apartment or office.
We move appliances locally throughout Cleveland and the northeast Ohio region as well as long distance throughout the USA. Whether transporting appliances from your home, office, or retail appliance store, we can help you with timely and efficient moving solutions.
In addition to home appliances we can move the following large items for you as well:
Pianos
Pool tables
Pianos
Safes
Computer networks and hardware
Televisions
Trusted relocation & packing services
We get that you may need more than just your appliances moved. If so, consider our full-service moving options, which include planning, packing, loading, unloading, unpacking, delivery and more.
If you don't need full-service moving, we can help you with a la carte options when you need them most, such as the following:
Packing and unpacking
Loading and unloading
Delivery
Ready to get started on your relocation project? Call our Cleveland, OH moving company for a free moving quote, trusted service, and low-cost rates.